2004
Nov 29 -
Nov 25 -
Nov 24 -
Nov 23 -
Nov 22 -
Nov 21 -
Oct 21 -
Oct 4 -
Oct 4 -
Aug 24 -

Dec 31, 2004

For the last few years, we've hosted a video game sleepover at our house over Christmas Break. I wrote about version 2001 here. Last night we had about 20 friends and family show up for version 2004. The game of the night was Halo 2, the much anticipated sequel to (you'll never guess) Halo. We had 6 Xboxes networked together so that up to 16 people could play against eachother at the same time.



I didn't play too much as I was busy connecting everything, getting pizza and other food ready and cleaning up. I did enjoy a few rounds of capture the flag, though. By about 4 a.m. people started falling asleep. I droopped off at about 4:30, then got up at 7:30 to start making pancakes. Karen's brother Michael and his cousin Nate were the only all-night survivors. My arrival signaled that it was morning, so having conquered the night, they immediately fell asleep. People woke up in waves, which was perfect for my pancake cooking speed. By early afternoon, the last of the die-hards headed home.

I hope everyone had fun and wants to come back next year. If you didn't get invited, but you wanted to come, let me know so I can put you on the list for 2005.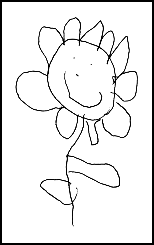 "A sunny morning, a flower growed."
--Lauren (3/2005)



LinuxMobile Odometer