2004
Nov 29 -
Nov 25 -
Nov 24 -
Nov 23 -
Nov 22 -
Nov 21 -
Oct 21 -
Oct 4 -
Oct 4 -
Aug 24 -

Nov 29, 2004

This year Lauren got to have a friend party, so she invited the kids in her Primary class and her cousin Caleb. She was very upset that all her cousins couldn't come; she has a hard time understanding that traveling from Texas and California is too far for a birthday party.



Lauren had a fish party. We played Go Fish!, had a fishing pond and played "pin the leg on the octopus." Lauren had a great time and her friends were very cute.

We planned to have Lauren's party on the 22nd (her birthday), but she got sick over the weekend, so we postponed it one week. I had some fun making her party invitation. I drew it on our computer, saved it as a jpeg and printed it at Wal-Mart. They turned out really cute and for about a dollar we had professionally printed invitations - sort of.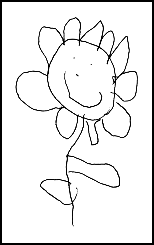 "A sunny morning, a flower growed."
--Lauren (3/2005)



LinuxMobile Odometer