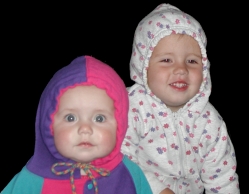 Late in the evening we found out that a total lunar eclipse was about to happen.

We grabbed sweatshirts, blankets and snacks and watched it from our neighbors front lawn. Lauren and Melanie really enjoyed it, they camped out with their friends Bailee and Brigham. Melanie went to bed pretty soon, but Lauren stayed up for the whole thing!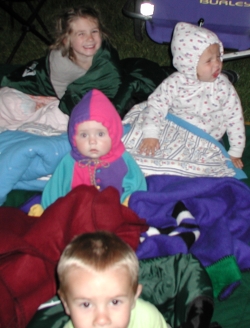 As you can tell from the photos, Melanie was very interested in the "red eye" flash.
We sang songs and played games and tried hard to be nice and share blankets - which can be very difficult when it's past bedtime.
I spent a while trying to learn more about our camera and how to change the settings manually. Then I set it up and took many pictures of the moon. I borrowed a tripod and started taking pictures a little while after the full eclipse.
It was really hard to tell which pictures were turning out, so I tried lots of different settings. Some turned out and others really didn't.
Here is a sequence of what I was able to capture.